Blog
Children's Books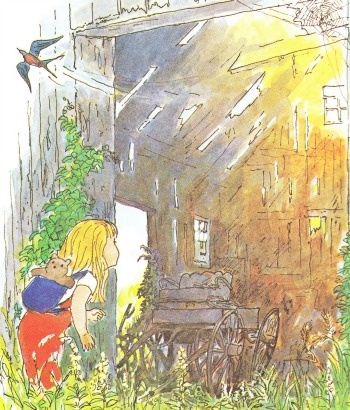 Sometimes one of the best places for children to start their journey towards a lifelong love of nature is on the pages of a great book. For me, books like Billy and Blaze, A Pony for Linda, and Jennifer's Walk all fed my imagination and inspired me to explore. Texas Children in Nature has complied a list of fun reads for children. While reading inside is good, reading outside under the shade of a favorite tree is even better.
Do Princesses Wear Hiking Boots?
Like many young girls do, the young girl in this story wonders what it's really like to be a princess. She asks her mother copious questions in hopes of finding out. "Do princesses climb trees? Do they ride tricycles?" This tale encourages readers to follow their dreams.
From tiny hummingbird eggs to giant ostrich eggs, oval ladybug eggs to tubular dogfish eggs, gooey frog eggs to fossilized dinosaur eggs, this book magnificently captures the incredible variety of eggs and celebrates their beauty and wonder.
While out exploring one day, a little boy named Liam discovers a struggling garden and decides to take care of it. As time passes, the garden spreads throughout the dark, gray city, transforming it into a lush, green world.
A group of bats take a trip to the beach during a full moon at midnight and have fun wading in the water, playing in the sand, sharing picnics, and much more!
Grandpa Green's great-grandson travels through a garden he created. In this garden, he can see all of the lost memories of his great-grandfather - from living in a farm, having chickenpox, going to war, to getting marry and having kids, grand-kids, and a great-grandkid.
A grumpy little kangaroo is having a bad day until his mother finds a way to make him smile. She tries everything to get a little grim out of him but it isn't until a surprise at the end that gets the young roo to smile.
Since it was first published fifty years ago, Shel Silverstein's poignant picture book for readers of all ages has offered a touching interpretation of the gift of giving and a serene acceptance of another's capacity to love in return.
What's a bunny to do on such a fine sunny day? Follow his nose! Down the hill, into the forest, and through a vegetable garden, Little Bunny does just that! Kids are certain to enjoy this 1971 scratch-n-sniff classic.
Long before saving the earth became a global concern, Dr. Seuss, speaking through his character the Lorax, warned against mindless progress and the danger it posed to the earth's natural beauty.
No book has captured the magic and sense of possibility of the first snowfall better than The Snowy Day. It reveals a child's wonder at a new world and the hope of capturing and keeping that wonder forever through the adventures of a little boy in the city on a very snowy day.
Knocked from her mother's safe embrace by an attacking owl, Stellaluna lands headfirst in a bird's nest. This adorable baby fruit bat's world is literally turned upside down when she is adopted by the occupants of the nest and adapts to their peculiar bird habits.
Encountering three predators who all wish to eat him - a fox, an owl and a snake - the brave mouse has to use his wits to survive.
No every bull is meant to be a great fighter. Ferdinand was a gentle soul in a grand body who just wanted to smell the flowers.