Blog
The Nature of Creative Inspiration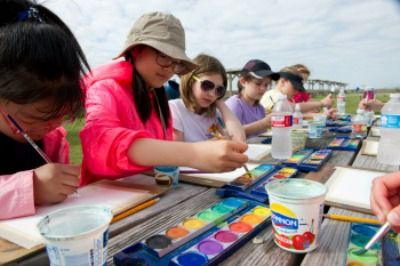 Do you know what Walt Disney movies and famous painters, writers and musicians like Monet, Frida Kahlo, Kipling, Virginia Woolf, and Beethoven have in common? The natural world helped inspire their creative genius.
Creativity is a trait that is relevant to more than just the arts. To be creative means to use one's imagination or original ideas and is very important in many basic facets of life or employment, where innovative thinking or problem-solving is required.
Fostering creativity and imagination is an important part of a child's development that helps them develop cognitive and socio-emotional skills.
You might ask, so what's nature got to do with it? Nature helps inspire children to explore, express themselves, learn to make their own choices, and use their imagination by default, which encourages their creativity.
Children are naturally drawn to nature.They are born with a sense of wonder toward it. When kids are allowed to explore, their imaginations come to life.
Help encourage creativity in your kids and get them connected with nature.Whether it's arts and crafts in the parklike coloring activities, painting rocks, leaf rubbings, storytelling, songwriting about critters, or making a birdfeeder and building a fort or sandcastle (to name a few!),get your kiddo outside and let them express themselves.
Here are a few places you can get inspired:
- Austin: Contemporary Art Museum of Austin/Laguna Gloria.
- Caprock Region: Muleshoe Wildlife National Refuge.
- Coastal Bend: Get to the beach!
- Dallas/ Fort Worth: Dallas Arboretum and Botanical Gardens.
- Houston: Houston Arboretum and Nature Center.
- Rio Grande Valley. Resca de la Palma and World Birding Center.
- San Antonio: DoSeum.
Visit NatureRocksTexas.orgto find more places to play and explore, and activities that connect your family with nature near you. Check out our Art in Nature page on Pinterest